Competitive benchmarking of smoothies with e-nose and e-tongue
In this study, an Electronic Nose and an Electronic Tongue were used to analyze and compare several brands of smoothies. The objective was to position the various brands and get detailed sensory information about target competitive products.
Tests on odor and taste were conducted respectively with Alpha MOS HERACLES Electronic Nose and ASTREE Electronic Tongue.
The HERACLES E-Nose is based on ultra-fast GC technology, with two metal columns of different polarities, two FID detectors, and an autosampler. The instrument was equipped with the AroChembase module, a library of chemical compounds with name, formula, CAS number, molecular weight, Kovats retention Index, sensory attributes and related bibliography. AroChembase allows to pre-screen the chemical compounds and give sensory features by directly clicking on the chromatograms' peaks generated by the HERACLES E-Nose.
The ASTREE electronic tongue analyzes organic and inorganic compounds dissolved in liquids that are responsible for taste. The detection principle is based on a potentiometric measurement with seven ChemFET (Chemically modified Field Effect Transistor) sensors.

Odor analysis
An odor map based on Principal Components Analysis (PCA) was generated based on the volatile compounds detected in the headspace of smoothies, showing differences and similarities between the different brands of smoothies. The nature of the most discriminant volatile compounds involved in smoothies flavor was investigated using their Kovats index and the AroChemBase database.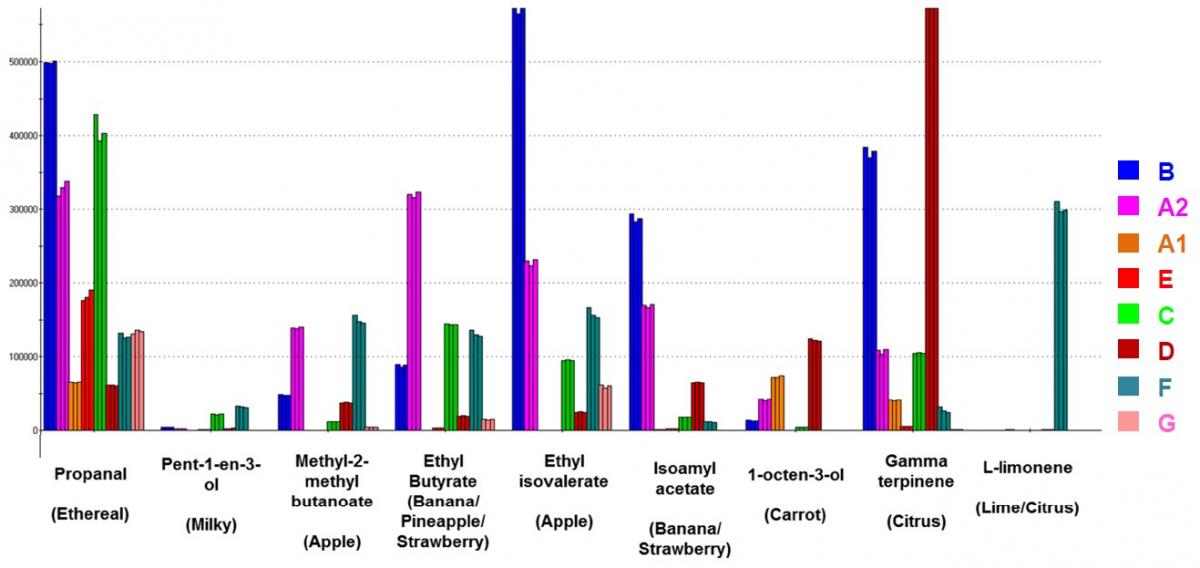 Proportion (peak area) of the main volatile compounds identified with AroChemBase in the different smoothies


Taste analysis

Based on ASTREE measurements, a taste map based on PCA was generated, showing differences and similarities between samples.



Taste map (Principal Components Analysis) of the different brands of smoothies obtained with ASTREE e-tongue
Combined odor and taste analysis
Combining the information from the electronic nose and the electronic tongue is very powerful: a sensory map is obtained, showing both the taste and the odor attributes of the analyzed products.
Principal Components Analysis model applied to e-nose & e-tongue measurements for smoothie samples